The
Mayo Automatic Hydraulic Scraper
is assuredly the most cow friendly & reliable system on the market. Our system design has evolved over the past 3 decades to incorporate the
innumerable hours
we have spent observing the cow in her environment. We have taken our learning from those observations and added what we have learned by listening to
farmer's real requirements
. This research, together with our
manufacturing and innovation expertise
, has allowed us to develop the Mayo Automatic Hydraulic Scraper System into what it is today.
The number one choice for any farm from a cow safety, robustness, reliability & value for money perspective nationwide.
Why the Mayo Automatic Hydraulic Scraper? 
The most cow friendly system on the market for a stress free productive herd
Fully operational in all weather conditions (including dry cold frost)
Designed by farmers for farmers
Easy to operate but high tech!
1 control box for 6 passage independent operation
Little or no pre-installation
A 5 year warranty on all track & scrapers
The benefit of Mayo's unparalleled manufacturer's insight into your cow's welfare
All weather independent function – Any farmer will tell you that their scraper system needs to be reliable as a priority. The Mayo scraper system is all about reliability. 95+% of calls fielded are rectified over the phone by one of our technicians. This service is available 365 days a year. That said, we pride ourselves on reaching a break-down that needs a Mayo technician within 24 hours.
Interested in the Mayo Automatic Hydraulic Scraper System?
Mayo Hydraulic Scraper System functionality/reliability elements include:
Simple, user friendly controls
1 control box for 6 passage operation
Each passage is fully independent in sequence
Times and frequency are easily changed with the push of a button
Will scrape no matter the weather condition!
Double folded track for increased strength
365 days a year over the phone assistance (95+% of all scraper queries rectified over the phone!)
We will reach a break-down within 24 hours

Super safe for your cow's welfare – 

Our system is designed around your cow's welfare as our main priority.
Key cow welfare features in the Automatic Hydraulic Scraper System include:
Smooth,

fully-rounded low-profile track

making this the most cow convenient & safe on the market today

No raised notches

eliminating planted hoof damage

Innovative Mayo

design mechanical 'cow down' technology

Easy on the Cow, tough on the job!
Mayo Automatic Hydraulic Scraper System Installations
The Mayo Undertrack Rams 
One of the most important innovations in recent years is The Mayo Undertrack Ram. This negates the need for traditional ramboxes taking up space at the end of your building and reduces or eliminates the amount of pre-installation work required.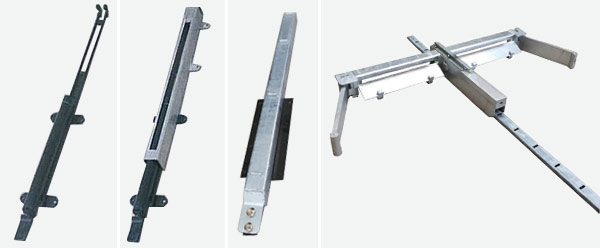 Ram is positioned on the floor using seven fixing bolts.
Hydraulic hose is connected to ram keeping solenoids up on the wall.
Ram is covered using special high track and stainless steel plate.
The high track only extends five foot from the wall.
The smooth low profile track is connected and the scraper can now travel over the ram and begin scraping from the wall.
The system is easily adapted to most situations, i.e. where scrapers need to start from under a doorway.
Get in touch with any questions or for pricing