Stable flooring has moved in leaps and bounds over the years! Where stone or even cobbled floor was normal protocol, we now have the technology to produce the ultimate comfort in surfaces for our beloved horses. This gives them the comfort they deserve, while making our lives easier too!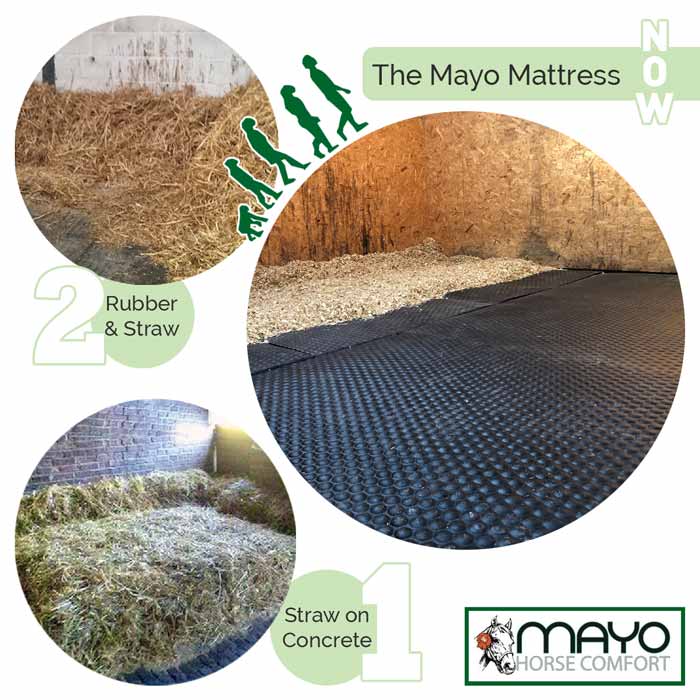 1. Straw on Stone / Concrete
It's isn't easy to make a hard surface comfortable. A deep littering of straw on top of stone or concrete forms a bed. A lot of straw has to be used to cover the cold, hard surface and provide a suitable area. It's time consuming to muck out and also costly in never ending use of straw… who has time for that!?
2. Straw on Rubber
Rubber was extremely popular when it was first introduced. Covering the hard surface with rubber is a win in comparison to nothing being there. What isn't a win is that rubber hardens over time and becomes slippy, so isn't an ideal choice in the long run. A deep bed is still needed and the rubber mats are heavy and awkward to move when mucking out and can become very smelly – we all know how delightful that ammonia smell can be!
3. The Mayo Mattress
The Mayo Mattress is at the forefront of stable flooring innovation-  it's also a BED! It's the only horse mat on the market of it's kind, made from a pure closed cell foam. Here's just a few reasons why the Mayo Mattress is the modern choice for stable mats:
Provides supreme comfort for your horse
Lightweight, so easy to lift and clean by an individual
Extremely durable
Hygienic – 100% non-absorbent – no more nasty ammonia smells lingering!
No loose bedding needed from a comfort and warmth perspective

Think of all the time saved in mucking out… and the money saved on loose bedding. All while having a supremely comfortable horse. A happy horse and a happy human- win win!
Take a look at all the full benefits of the Mayo Mattress.