There can be some mystery surrounding the best type of stable matting to opt for. Do you go for rubber or EVA; and what's really in the EVA formulations that are available? Our horses are precious animals and providing them with the most comfortable option would seem the most likely path to take BUT if you can also save money while doing this then it's a no-brainer.
Here at Mayo Horse Comfort we are renowned for quality and place a no quibble guarantee on all our Mayo mattresses. We take pride in our products with the animals' welfare at the forefront of product development.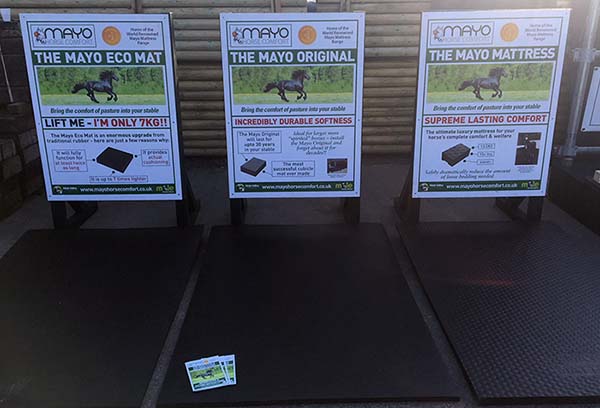 The Mayo Horse Comfort range has many benefits over rubber matting and EVA composite mats. Here are five reasons why the Mayo mattress is grade 1:
1. Cost Effective
The Mayo Horse Comfort mattress range is a cost-effective solution for stable matting. Although the initial outlay may appear to be higher than that of a rubber or EVA composite alternative, with Mayo you are paying for premium quality and a product that will last. In actual fact, the Mayo Horse Comfort mattresses are beds, not just floor covering like the rubber alternative. Take a look at How the Mayo Mattress Will Save You Money blog
All our Mayo Horse Comforts Mats come with a minimum of 10 years guarantee. How many rubber mats would you have to replace in 10 years and how much more outlay would that incur?
With the Mayo mattresses acting as a bed, less bedding is required, which is something people often find difficult to get their heads around. As the Mayo mats are super soft and of a much higher quality to a normal stable mat, you can reduce the amount of bedding safely.  The amount of bedding needed is enough to absorb any moisture. Saving on reduced loose bedding alone will mean that your Mayo mats pay for themselves over time and continue to save you money in the long run.
2. Comfort
Mayo Formulation EVA mattresses are made from the highest-grade Ethylene Vinyl Acetate available, completely devoid of filler material. During the manufacture process the EVA is aerated which gives the Mayo mats their incredible comfort. If you have the opportunity to feel a Mayo Horse Comfort mattress next to a rubber mattress, this speaks for itself.
Rubber at the outset may seem like a cheaper option before it starts to perish and wear away – this is not good for the comfort of your horse. If you're standing up on concrete or a hard surface all day, this will have an impact on your legs – your horse is no different. The same goes with lying down. A Mayo Horse Comfort mattress is a bed, it provides actual cushioning for the horse. The mats have a high shock absorbency and are the ultimate product for horse comfort. Pure EVA equals pure comfort.
3. Strong
As mentioned, Mayo Horse Comfort mattresses use the highest-grade EVA on the market that is completely devoid of any fillers. Think of it as the Popeye of stable matting!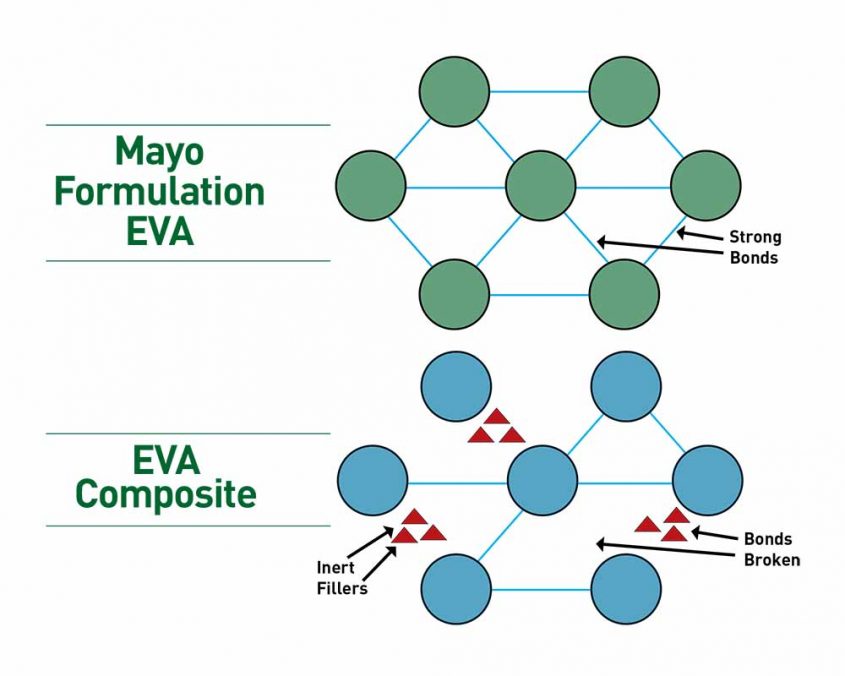 Other products claiming to be EVA mats are EVA composites, with fillers such as chopped rubber, sand and other synthetic materials added to the mix. Adding fillers reduces manufacturing costs dramatically, Mayo are the only range completely devoid of any filler. Inert fillers will compromise the durability of an EVA mat as they weaken the bonds and cause them to spread asunder or disintegrate alarmingly quickly.
Rubber matting will harden and wear away over time, so will need to be replaced much faster than a Mayo Horse Comfort mattress. You can be confident in the knowledge that your Mayo mattress will NOT pit, hollow, rip or tear like traditional rubber. Also to reinforce the quality of the range, the products come with a minimum of 10 years guarantee.
4. Lightweight
Can you easily pick up a rubber mat? If you can then you're much stronger than your average Joe! Rubber matting is heavy, awkward to carry and in general not easy to manoeuvre at all.
The Mayo Horse Comfort Mattress range starts at just 7kg for the Mayo Eco, 12kg for the Original and 13.5kg for the Mayo Mattress. This means they are extremely easy to move around being 3-6 times lighter than traditional rubber. If you need to remove the mats for cleaning or moving stables it's an easy task to complete.… you could even carry a couple at a time!
5. Hygienic & Time Saving
The Mayo Mattress range is 100% non-absorbent making it extremely hygienic and easy cleaning. As the mats are lightweight they are easy to remove for mucking out when a deep clean is required.
As the Mayo mattress range is supremely comfortable, only a smattering to absorb moisture is required. This means that your precious time is saved on mucking out. A cleaner stable with less bedding is an added factor on improved health for your animal. Less bedding also means money saved in the long run.
Here at Mayo, we have been providing mattresses to the farming and equine world since 1989. We offer the most comfortable, durable, hygienic and easily maintained range of animal beds on the market.
A proven trusted name in Mayo – quality guaranteed.
If you have any questions about the products in our range, please don't hesitate to contact us.